Give by Check
Mail envelope to Growing Home
2732 N. Clark Street, Suite 310 — Chicago, IL — 60614
What Does My Donation Support?
Seeds required to produce 300 meals
Public transportation for a program participant for one month
One week of wages for one program participant
Interview apparel for all 2019 program graduates
Allen's Story
Allen grew up in DCFS, without a family. Missing that support system to guide him, Allen served eight years in prison before making the decision to empower himself and transform his life. Today, Allen is working full-time, renting his own apartment, and will be starting school in January.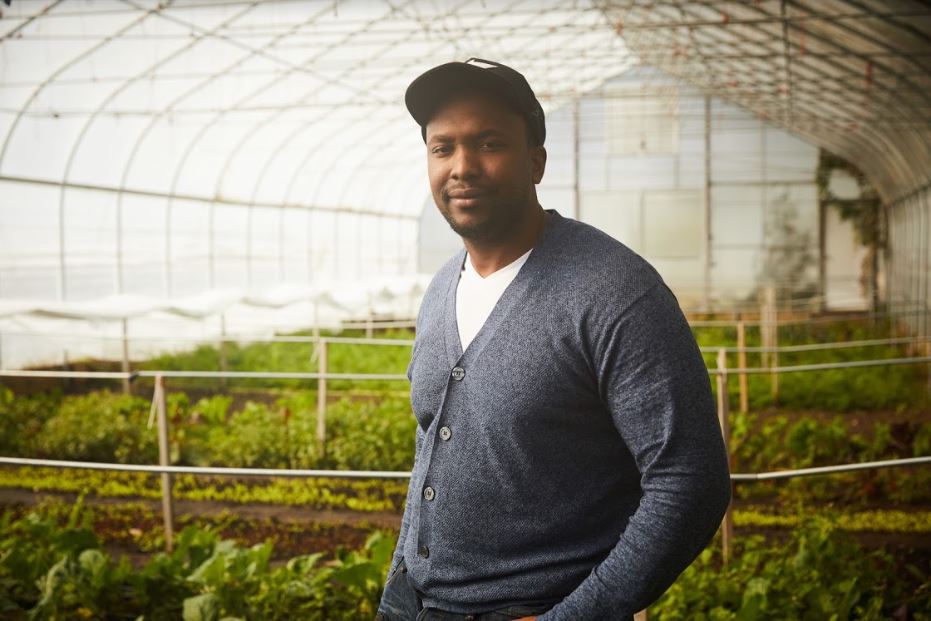 Dollars have been Raised So Far
Every dollar raised will help support our life changing job training program and food access initiatives in Englewood
of Our Goal has been Reached
Our goal is to raise $125,000 by January 31st. YOU can help us get there!
We're hoping to reach more donors than ever before!
"There is no greater gift than giving someone an opportunity—to enable them to find pride and joy in their work."

BILL KURTIS & DONNA LA PIETRA

DONORS SINCE 2014
Thank You to Our Year-end Donors!
Gina Caruso
Amanda Delheimer
Cynthia Wolfson
Sue Fletcher
Mildred C. Barnes
Catherine Uhrich
Michael Socie
Karen Jacobs
Susan Smith (and Sherry)
Harriet Mishoulam
Linda Shapiro
Larry and Judi Braskamp
Megan Hougard
Joe Rosengarten
Connie Scott
Dov Rhodes
Helene and Harry Rhodes
Dave and Joni Lewandowski
Marie Dickson
Noell Jezek
Maximillian Gibbons
Andrew and Mary Tinich
Alison Tobach
Tessa Burton
Stephanie and Mike Waugh
Michael Slutsky and Susan Agate
Gita and Lee Weintraub
Kathy and Dan Kaberon
Shari and Charles Granat
Dina Elenbogen and Steven Siegel
Wendy Yanow
Saul and Sandra Klibanow
James and Kathy Nielsen
Elizabeth and Francois Blondel
Mark Jungers
Thomas Amato
Jennifer Lauer
Mary Ann and Kerry Kennedy
Daniel Sachs
Stephen Latreille
Tabitha Humphries
Marcus Paschall and Barbara Barreno
Karen and Ed Weil
Rebekah Paine
Edna Schade
Jim Goodridge and Joan Riley
Nancy and Ross Green
Olivia's Market
Frances Gordon
Craig Morrison and Deborah Kinzer
Daniel Conway
Linda Berg
Dawn Hartwig Gargano
Gary Gargano
Allison Tatro
Judith Gravdal
Eleanor and Fredric Coe
James and Chelsea Smith
Barbara and Richard Alexander
Edward Wheatley and Mary Mackay
Spencer and Lesley Bloch
David and Elizabeth Graham
Betsy Fuchs
Chelsie and Peter Salib
Mecca Bey
Giving Tree Associates
Zachary Peck
Cecile Carrie
Erin Hughes
Karen Lehman
George Plumb
Julie Lukeman
Lauren Beitler
Marny Zimmer
Kevin McCarty
Hal Rees and Emily Cumberstone
Joe Harrington
Susan Smith
Chris Multhauf and Lynn Osmond
Thomas and Judith Casten
Christine Stebbins
PNC Financial Services Group
Energy Futures Group
J Francisco and Sara Nunez
Susan Knight and Lawrence Jones
Bruce and Sally Miller
Blanche Montesi
Thomas Jackson and Joanne Stevens
Ted and Kathleen Halloran
Megan Burch
Teresa and Dirk Fucik
Jo Ann and Steven Potashnick
Kim and Chris Fronk
Kathleen and Robert Miodonski
Cynthia Gray
Margaret Dilullo
Janice Gintzler
Kit Tilly & Joe Rimensberger
Morton and Reva Denlow
Jeanne Fec
Kathy Talmage
Heather Haukness
Amy Hartwig
Natalie Edwards
Akofa Bonsi
M L Jelachich
Barbara Murphy
Benjamin Segedin and Carolyn Garrett
Elizabeth and Thomas Stringer
Scott Moorhouse
Lena Ferrara Mullin
Susan and Brad Schulman
Steven and Vivian Thomas
Mr. and Mrs. Wildman
S.B. Friedman & Company
Stephon Davis
Cristina Groff
Constance Spreen
Jonathan Yenkin and Susan Fisher
Augustus Spelman
Sean Wiedel
Travis Cronkhite
Audrey Green
CT Williams
Tracy Hurst
Avery Hurst and Claire Stringer
Dominick Cannata
Hannah Vandercook
Mackenzie Canfield
Louis B. Gottlieb
Nancia Marika Shawver
John Washburn
Ellen Rosen Kaplan
Fred Schwartz and Mary McFarlane
Bill and Carol Moody
Natalie Saltiel
Kassie and Mark O'Driscoll
Nicholas Van Heest
Zachary Dabah
Edward Feldman
Emily Sper
The Connection (Tsen Dojo)
Karen Nielsen & Joseph Mariano
Jean De St. Aubin
Wendy Littlefield and Donald Feinberg
Eve Shapiro
Susan Rynell
Cynthia and Daniel Helle
Maxwell Tabb
Thomas and Wendy Bottomlee
Scott and Sue AndersonSara Jo Schwartz
Diana Leifer
Eric and Laura Jordahl
Melvin and Patricia Gerbie
Kelli E McMaugh
Michelle Gittler and Lee Francis
Rod Passman
Stephen Rose
Linda Millon
Andrew Brommel
Jae Moreno Rand
Tyler Mordecai
Matthew Schweiger
Rhoda and Mitchell Rhodes
Christine Conry
Lee and Gita Weintraub
Phyllis Bird
Cherliyn Heramb
Nancy Sreenan and George Zrust
Chris Holden
Sharon Veis and Marc Blumenthal
Glen Reed
Karl and Meg Efrig
Claire Halpin
Rashmi Ramaswamy
Adren Handler
Kim Smith
Charles Dabah
Gail Gillispie
Peter Landon
Emily and Bruce Brigell
Betsy Gates-Alford and Peter Alford
Steven Art
Deborah Mead
Barbara Rand
David "Andy" Keels
Joshua Kirschenbaum
Kathryn Guinan
Louis Bernstein

Casey Larson
Judy Aronson and Marc Hilton
Charlotte Cottier
Donna Fulks
Mary Jane and Philip Grinstead
Daniel and Andrea London
Susan Matejka
Richard Silbert
Thomas Aries and Shelley Fox
Cara Schwalbach
Kevin Swan and Venous Shabahang
Helene Yen
Cooper Foszcz
Marcia Pollard
Bill Galusha
Jenny Rowland
Roni Strassman
Linda Petty
Dean and Deborah Zemel
Barbara Dufford
Benjamin Bush
Christine Parker
Mike and Cathy Fields
Marie Stringer
Darcy Grostick
Jeanne Cuff
Jennifer Suvari
Michael Santee
Jim and Brenda Manzardo
David Harris
Barbara and Bryan Caspersen
Laurie Bederow
Connor Siegel
Kristina Kazemek
Michael and Melissa Stein
Deana Curcio
Arielle Tolman
Shabahang & Sons
Leonard Kichler
Ladoris Duncan and Andrew Clarke
Christopher Allen and Virginia Holbert
Jana L. Jones
JodiLee Mesirow and L. Dustin Vincent
Jane and Timothy O'Brien
Wendy Fryer and Greg Beihl
Ruth Lambach
John and Susan Lowenberg
Tamara and Peter Jaffe-Notier
Kim Bartko and Matt Heavin
Elizabeth Rochford
Terry and Andy Ratoff
Elizabeth Lacey
Pierce Family Charitable Foundation
CVC Capital Partners Advisory
McMaster Carr Supply Company
Eben and Virginia Ives
Jerald and Ellen Esrick
Rose Fastzkie
Brian and Suzana Hoff
Colleen Dykas
Alison and Larry Thomas
Rachel Knuttel
Mary Sue Barrett
Egon Ozer and Sara Wainscott
Diana Klotnia
Brie Callahan
Daniel Wachter
Jenna Swisher
Susan Cahn
Larry Hamilton and Ann Hicks
Megan Manetas
Jack and Grace Dabah
Mary McDonnell and Jed Haake
Karen and Ward Reeves
Stephen Fedo and Ann Speltz
Jennifer S. Van Valkenburg
Carol and Brad White
Rob Cappucci
Susan Frolichstein
Fidelity Charitable
Richard Groh

Mark Bourdenko and Madeline Wolfe
Alexis Macias
Mike Furlong
Jean Ogilvie
Catherine Nardi and Eric Gasterich
Chris Parker
Jason Waugh
Darla Kroeger
Carolyn Kos
Katharine Uhrich
Rosalie and Paul Greenberger
Maria and Randy Altmayer
Foster Dale
Taeyun Kim
Jessica Grossnickle
Katherine Grayson
Karen's Stuff
PopPolitics
Emilia Arellano
Larissa Mariano
Andrew Marikis
Marie Stringer
Dave Mausner and Gale Zemel
Annika Brown
Claire Stringer
Simin Hemmati Rasmussen
John Ettelson
Patricia Janezich
Jim and Lynn Harris
Charles and Jutta Helm
Karen and Kate Goetz
Sam Donaldson
Deborah and Robert Render
Bernard Silverman and Grace Gifford
Ellen and George Galland
Lauren Daniel
Rachel Strauss
Jason Laurie
Jane Bilger
Marilyn Vitale
George Kollar
Scott Leff
Arman Hosseini
The Lakota Group Freres
Rebecca Lowery
Cynthia Sykes
Michael Brody and Elizabeth Ester
Samuel and Mickey Harris
Arthur and Luann Mayer
Cheryl Bitoy
Nancy Bradt
Liam O'Kane
Jeff and Deb Cummings
Michael Manuel and Susan Ataman
James Peterson and Kat Beaulieu
Gil Edozien
Summer Morgan
Batoul Shabahang
Marie Kennedy and Chris Tilly
Edward F. Connelly and Jeanne M. Medeiros
Steven Bialer and Sharon Feigon
Barbara Warren
Holly McLeod
Kathleen Wallace
Ian Stone
Elaine Perrecone
Whitman Soule
Rebecca Cox
Joseph S. Harrington
Conner Weisbecker
Susan Crawford
Karoline Boehm-Goodnick